CHORS hostel contact
How can you get to CHORS
CHORS hostel contact |
+421 910 127 878
reservations@cho.rs
RESERVATIONS OF DEPENDENCE APARTMENTS ARE POSSIBLE ONLY THROUGH email, phone, or at  Booking.com
CHORS is situated in a pedestrian zone on Obchodná 43 Street, Old Town, the most popular part of Bratislava for tourists. It offers a comfortable connection of public transport with the goal destination - station "Vysoká", which is only 50m from CHORS.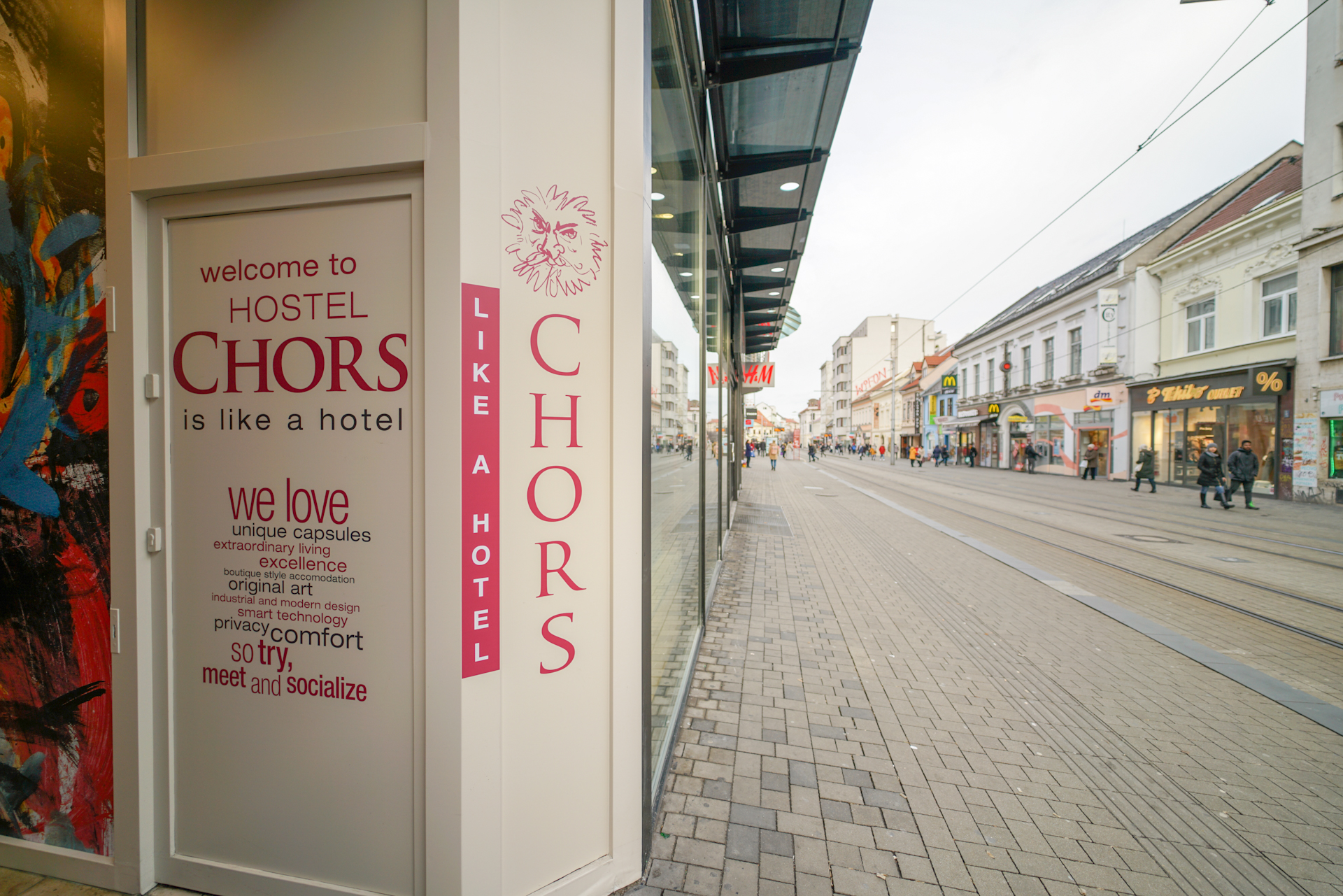 Entrance to the pedestrian zone is limited by time and free access is only between 6:00 - 9:00 a.m. when you can easily get by car directly in front of CHORS, although without the possibility of parking. Outside these hours the entrance to the pedestrian zone is allowed by a certificate issued by the municipal office.
Taxi
CHORS can easily appoint a taxi for you for a fee. IT IS NECESSARY TO BOOK IN ADVANCE through the reception.
from Bratislava´s airport for the price of € 25
from the main train station for the price of € 15
from the main bus station for the price of € 15
CAR
Accommodated guests have a public parking place at their disposition very close to CHORS, situated on
Public parking is paid for. You can pay by short text message or through iOS and Android applications.
CHORS will provide, according to availability, a parking place on the premises of CHORS on Vysoka Street 250m from CHORS. The price for the parking place is 20 € / day,  (just 3 spots).
You can also use the parking place inside the parking house Tatracentrum at Vysoka Street 400m from CHORS.
Airport
Direct connection by car from the airport to CHORS is 13 km far and the route lasts for 15 min.
Connection using public transport is very easy with one transfer station. The total time is 31 min. Public transport starts by taking bus #61 (12 stations, 19 min.) then walking 4 min. to the transfer, station to tram #9 (4 stations, 8 min.) to the station "Trnavské mýto" and you get off at the goal station "Vysoká".
Public transport in Bratislava is paid and you can get a ticket by sending a short text message from your phone, through iOS and Android application, or can be purchased in ticket machines right next to the platforms at the bus station.
Main train station
For those traveling by train to Bratislava, the transport to CHORS is direct without changing stations by tram #1 (4 stations, 5 min.) getting off at the goal station "Vysoká".
MAIN BUS STATION
For those traveling to Bratislava you can get to CHORS by getting on bus #72 (3 stations, 5 min.) and getting off at the goal station "Kollárovo námestie" and walking 3 min to CHORS.
Public transport around CHORS
Busses: 31, 39, 80, 94  
Trams: 1, 9
Trolley-busses: 42, 47
Night connections: N53, N55, N70, N72
Obchodná 43
Bratislava
811 06