From: 63,90 €
Jarila Boutique
Apartment for rent Bratislava | Jarila Boutique is a premium apartment in Stein, a newly finished residential complex, which was designed and completed in a Swedish quality under the wings of YIT, an international expert in residential development. It is situated in the center of Bratislava where you can easily walk everywhere where you wish to go. Jarila is an ideal apartment in Bratislava for those who are looking for high quality amenities and high quality materials. That is why this apartment is suitable for business partners as well as families with children. Inside the apartment there is a big King size bed with a big comfortable foldable sofa bed. Jarila is a part of CHORS apartments family in Bratislava.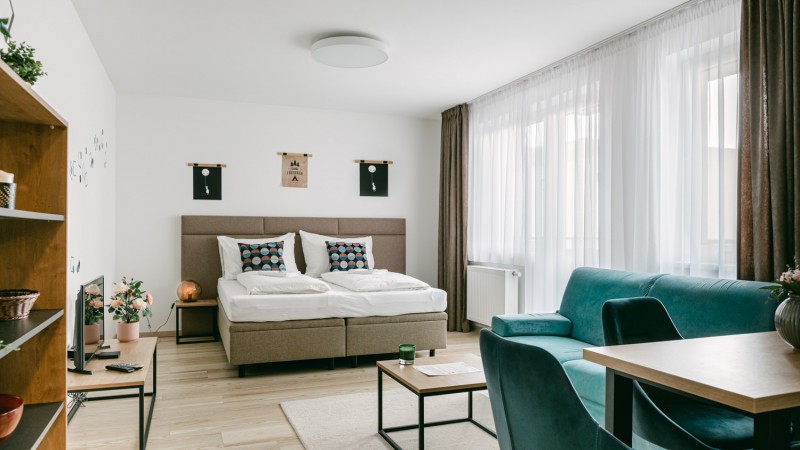 Featuring
Free WiFi
AC
TV
King size bed
Bathroom
Barrier-free access
Intercom
Kitchen
No smoking area
Location
Top Address
Jarila is located at Steinov dvor 2, 811 07 Bratislava
It takes only 15 min. by walk or 8 min. by tram #8 to get to Jarila from reception of CHORS located at Obchodná 43, 811 06 Bratislava.          

Check-out what is around and how long it takes to get to PoI:
Old National Theater – 5 min. by car / 10 min. by tram #8
Presidential palace – 4 min. by car / 10 min. by trolley #202
Castle – 6 min. by car / 5 min. by trolley #207 & # 203
Airport - 10 min. by car / 23 min. by bus #78 & #61
Main bus station – 5 min. by walk / 5 min. by bus #88
Main railway station – 10 min. by car / 20 min. by tram #1
Eurovea Shopping center – 3 min. by car / 7 min. by bus # 78
Polus Shopping center - 3 min. by car / 7 min. tram #2 or #4
Central Shopping center – 7 min. by walk / 1 min. by bus #68
Avion Shopping – 8 min. by car / 19 min. by bus #78 & #61
Aupark shopping center – 7 min. by car / 31 min. by bus #93
Kamzík forest - 16 min. by car / 19 min. by bus #78 and #61
Information
Apartment amenities and services
1 x King size bed
2 x Mattress 90x200 cm
1 x Foldable sofa bed
LCD TV
Kitchenette
Dishwasher
Fridge
Microwave
Cooking hob
Bedside tables
Wardrobe with hangers
Washing machine
Shower
Mirror
Hairdryer
Body shampoo
Towel with a small towel
Bed linen
ADITIONAL SERVICES AND FEES
Cleaning fee - 25 €
Safe deposit - 150 €
From: 63,90 €
Jarila Boutique
Book you accommodation today
Our other dormitories