From: 69,90 €
Svarog Unique
Svarog is a unique and prestigious place to stay when visiting Bratislava. This apartment fits up to 4 adults, 2 sleep on a regular queen bed and 2 on a comfortable foldable sofa bed. Newly finished place with stunning design will feel cozy and luxurious like at hotel place. Svarog is suitable for small families, romantic couples and also business travelers. Svarog is located on the 4th floor in just built new modern building. It is oriented to the courtyard with a nice view to the mountain. Svarog is next to the National Football Stadium, so you might sometimes feel like a football fan. Apartment is completely furnished with all necessary equipment you expect at home. It has a fully fitted kitchen, cutlery complete dishes to cook and bake like at home. Powerful ceiling air conditioning and unique separate sleeping place with comfortable mattress. You can always enjoy huge terrace attached to this modern apartment.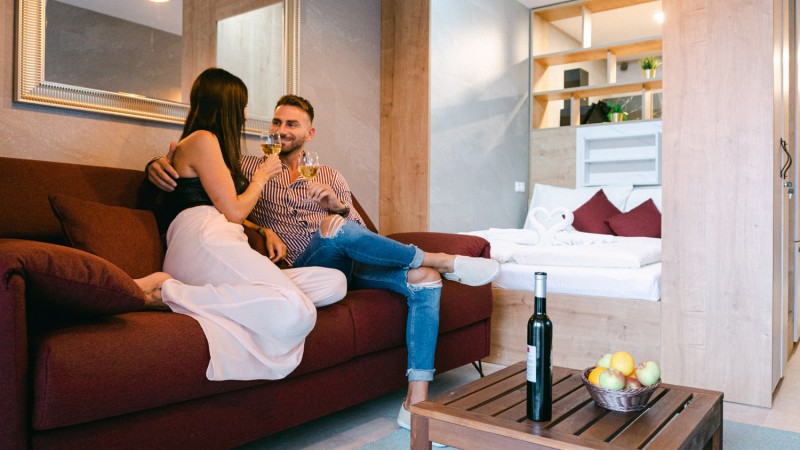 Free WiFi
AC
TV
Panoramic terrase
King size bed
Conference table
Towel
Linen
Wardrobe with hangers
Location
TOP Address
Svarog is located at Bajkalska 2C street in Bratislava.

It takes only 7 min. by car or 12 min. by bus #39 to get to Svarog from reception of CHORS located at Obchodná 43, 811 06 Bratislava.                                                                           
CHORS highly recommends these interesting locations in Bratislava:                                                                                               
Checkout our map to see what is around and how long it takes to get there.
Old Town Center (Old National Theater) – 15 min. by car / 18 min. by tram #6, #4
Old Town (Grassalkovich/Presidential palace) – 15 min. by car / 18 min. by bus #93  
Bratislava Castle – 15 min. by car / 14 min. by bus #39
Airport - 14 min. by car / 11 min. by bus #61
Main bus station – 11 min. by car / 11 min. by bus #78
Main train station – 11 min. by car / 9 min. by bus #61, #74
Shopping mall Eurovea – 11 min. by car / 10 min. by bus #78
Shopping mall Polus - 5 min. by walk
Shopping mall Central – 15 min. by walk
Shopping mall Avion, IKEA – 8 min. by car / 10 min. by bus #61, #63, #65
Shopping mall Aupark – 14 min. by car / 22 min. by bus #50
Kamzik forest - 14 min. by car / 20 min. by bus #204, #209
Information
Apartment amenities and services
1 x King size bed
1 x sofa
TV
Kitchen
Dishwasher
Fridge
Oven
Cooking hob
Washing machine
Towel with a small towel
Bed linen
Wardrobe with hangers
1 x Shower
Mirror
Hairdryer
Body shampoo
Dryer
Elevator
ADITIONAL SERVICES AND FEES
Extra bed - 20 € / night
Cleaning fee - 25 € / stay
Safe deposit - 150 €
Parking in the garage - 15 € / night
From: 69,90 €
Svarog Unique
Book you accommodation today
Our other dormitories