Blog
CHORS like a hotel won an international award again

Bratislava's capsule hostel CHORS like a hotel won an international award again. This time BigSEE Tourism Design 2020.
As part of the prestigious BigSEE Tourism Design 2020, CHORS like a hotel received an award in "Architecture & Design as experience" category, as well as a nomination for the Grand Prix.
CHORS like a hotel received this award as the first art boutique capsule hostel chosen by a professional jury Urška Gregovič, with its unique concept, which offered an innovative and visually stimulating experience through design and architecture.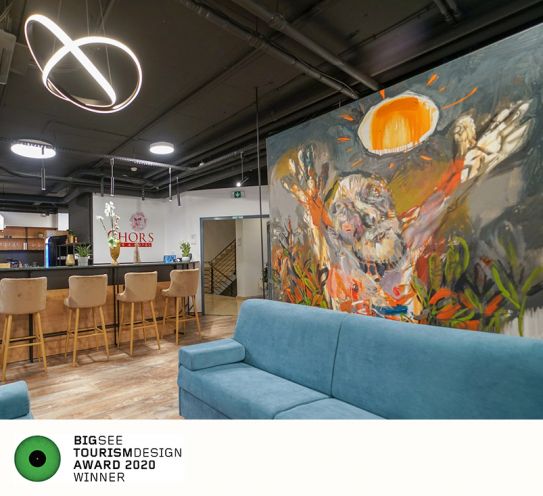 In recent years, the most interesting projects, that offer their customers the best in design and architecture, have found a place in this category.
Other winners of BigSEE Tourism Design 2020 were interesting projects from all over Europe, such as the exceptional hut Sasso Nero in San Giovanni, Italy, perched on rockycliffs at 3,026m.a.s.l., My Cocoon, Greece's first boutique capsule hostel in MykonosorWoodenCavealso from Greece.
What areBigSEE Awards?
Zavod Big has been exploring the creativity and business potential of Southeast Europe for many years, that culminate in fouding of BigSEE Tourism Design Awards. Thanks to this, the best ones meet every year to find out who will receive recognition for best architecture, interior, fashion design and creativity in tourism.
The awards ceremony is attended by projects from 17 European countries and the expert jury decides between such countries as Greece, Austria, Croatia, Italy, Turkey and, of course, Slovakia.
More info https://bigsee.eu/capsule-hostel-chors-bratislava/